Welcome to Juniata Park Academy!
Vision:
Juniata Park Academy is a School of Excellence. We are a dynamic community of learners empowering one another to become resilient, inquiring, confident members of the global society.
Mission:
The mission of Juniata Park Academy is to create a safe and nurturing learning environment that celebrates diversity. We are a community that holds ourselves to high expectations in maintaining a culture of belonging, academic excellence, and innovation.
Core Values: Respect, Teamwork, Excellence, Perseverance, Personal Responsibility, Problem Solving Optimism, Scholarship
---
Parent Portal Workshop Materials
Did you know you can see your child's grades, attendance, and test scores in real time?
Click here to view the presentation from our Parent Portal Workshop to find out more.
---
Morning Admission and Dismissal Locations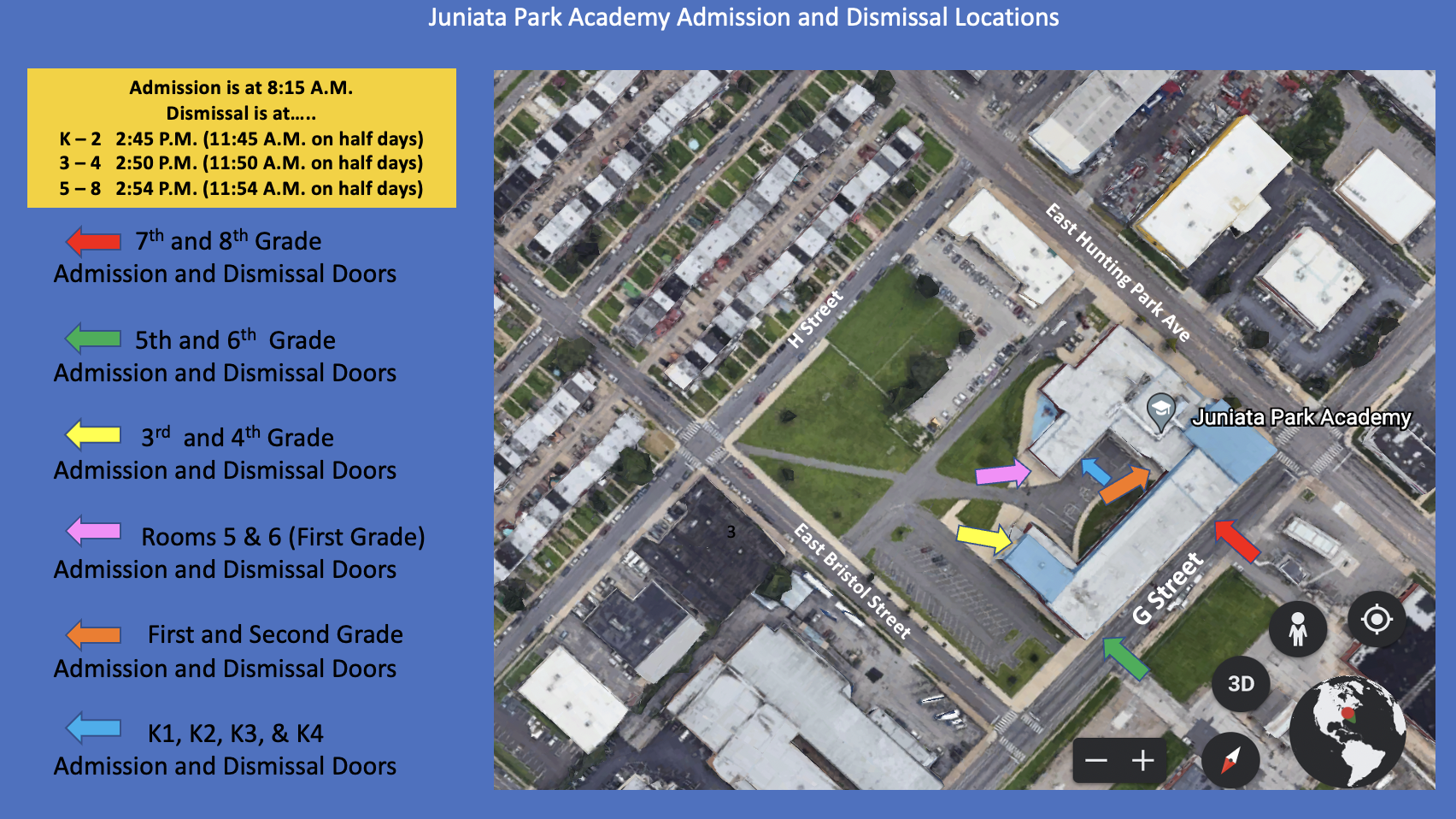 ---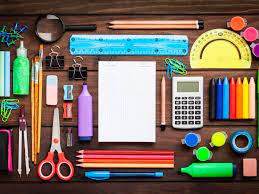 ---
The School District will be serving meals from over 100 locations! It's now even easier for you to pick up student meals every Friday from 9 am to 2 pm. Each box contains 7 breakfast meals, 7 lunch meals, fresh fruit, and milk.
 
Find your nearest food site at: Phila.gov/food.
For more information:
Flyer_Spanish Translation of New Locations
Flyer_Arabic Translation_New Locations
Flyer_Vietnamese Translation_New Locations
---
Parent Portal
Did you know that you can view your child's assignment grades and attendance at any time from a computer or mobile device?  This is more important now than ever with virtual learning.  All you need to get started is to create a Parent Portal account.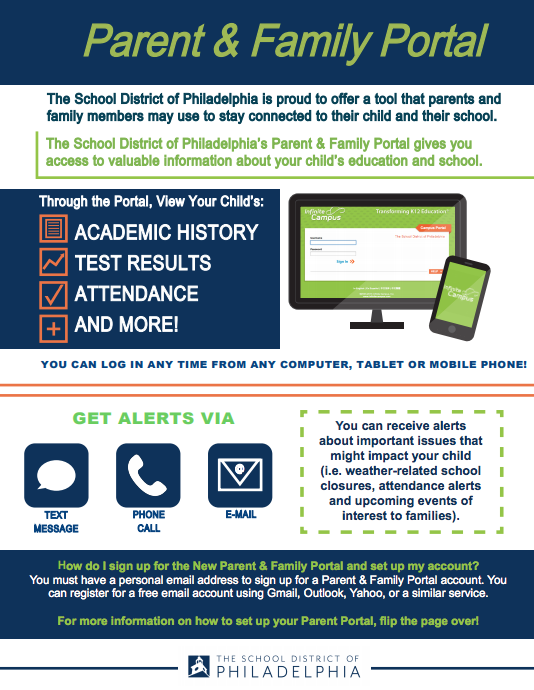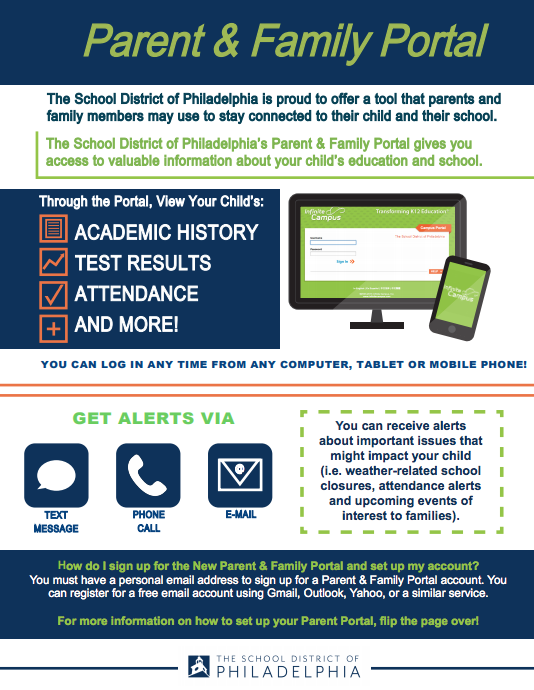 To view a recording of our Parent Portal workshop, please click here.
To access the links and slides shown at our workshop, click here.
For more information about Parent Portal, click here.
---
Click here for information from our school nurse, Nurse Long.
---
Family Engagement Calendar 2021
Coming this Fall!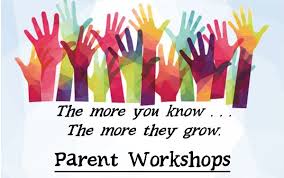 ---
New Student Registration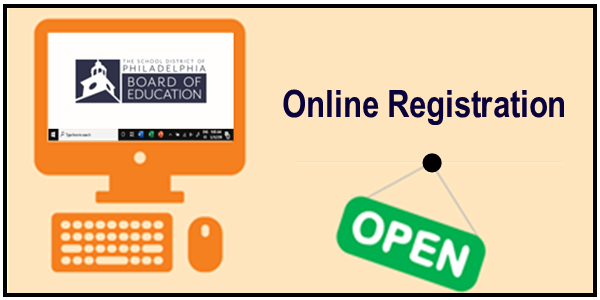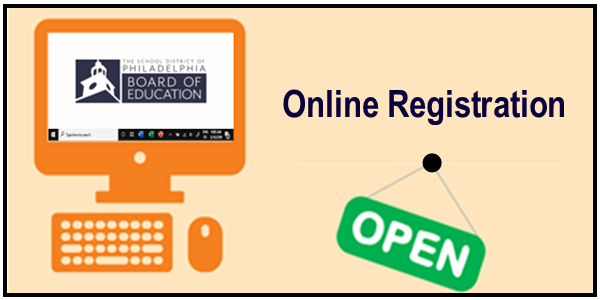 Student registration can be completed online this year and will reopen in mid August.
In person registrations for new students will resume August 10th at 9am.
---
2021-2021 School Year Calendar
Click here for this year's school calendar.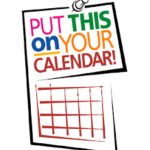 ---

---
Resources for JPA Families During Remote Learning
Information regarding the CHIP medical insurance program

Playworks at Home Online Resources
---
Our Mission
The mission of Juniata Park Academy is to create a safe and nurturing learning environment that celebrates diversity. We are a community who hold ourselves to high expectations in maintaining a culture of belonging, academic excellence, and innovation.Flyer_Arabic Translation_New Locations Flyer_Vietnamese Translation_New Locations