Outside Resources for Families
Outside Resources for Families
Below you will find a list of resources and information for families from outside community partners covering a wide variety of topics.  We know these are challenging times, but with community partner support our goal is to help all families be successful.
Hot Meals, Virtual ESL Tutoring, Virtual Homework Help, Digital Navigators and more.
locations for meal and food distributions for both students and families
Give Kids Sight Day (Free Glasses and Eye Exams)
GKSD 2020 – Spanish_compressed
GKSD 2020 – Vietnamese_compressed
Al Bustan After School Program
Al-Bustan Seeds of Culture is pleased to offer Friday Arab Arts Program on Google Meets.
• program offerings in visual art, drumming, singing, storytelling
• program is intended for grades 3-8
• program runs from September 25 to December 18, 2020
• program is held 1:00 to 4:00pm on Fridays with 10 minute breaks between the hour
• students can attend one to three program offerings
• art supplies and doumbek will be provided
• $25 registration fee per student, for however many sessions student attends
If your child is interested, please register here. If you have any questions or concerns, please contact Al-Bustan's Programs Coordinator Bridget Peak at bridget@albustanseeds.org  or 207-809-3668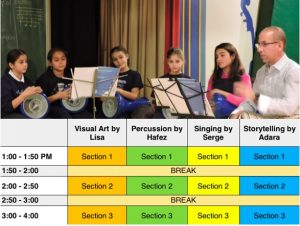 Some Free Library locations are now offering limited services including returns, computer use, material pickups, and phone reference. Visit our new Limited Services page to see what's available at your neighborhood library. You can also always call our helpline at 1-833-TALK FLP (825-5357).
If you'd like to place a hold with the Free Library, sign in to our catalog with your library card number and PIN to place a hold online, or call your neighborhood library to place a hold over the phone. Once your materials are ready, we'll contact you to schedule a pickup appointment.
Something that hasn't changed during the pandemic: homework! A resource that is helpful for students in any learning environment is Homework Help Online through Tutor.com. This resource is part of our Digital Learning portal and can be accessed from just about anywhere with a connection to the internet-you simply need your library card number and account PIN.
Homework Help Online offers everything from live tutoring in English and Spanish, from 10:00 a.m. to 12 midnight, seven days a week -to test prep and helping students' essays shine. Homework Help Online provides resources for elementary to college students, and even adult learners preparing for their G.E.D. or U.S. Citizenship test.